Why clients love working with Barossa Bottling Services
100% Commitment to Quality
Barossa Bottling Services prides itself on its 100% commitment to quality control and delivering the best possible finished product for its customers such that its customers can present their product to the market in its absolute peak condition.
Delivering Premium Wine
We have enjoyed growing our business in line with the growth in our customers businesses and look forward to participating in the future success of our customers. We will always strive to go the extra mile to ensure complete customer satisfaction and deliver the iconic wines packaged to market in peak condition.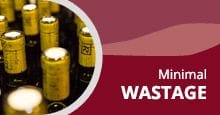 Minimal Wastage
Being the preferred bottler of iconic South Australian wines, we understand how crucial it is for our customers to experience minimal wastage during the bottling process. We are extremely proud of our wastage rates which we are confident considerably exceed industry benchmarks.
Attention to Detail
The success of our business is based on an uncompromising attention to detail. Ray, Linda and the team take personal pride in ensuring 100% quality assurance and treat the wines and the packaging as if it were their own.
Contact Details
Location: 147 Sturt HIghway Nurioopta, SA, 5355
Phone: +61 8 8562 2282 or 0419 844 614
Email: admin@barossabottling.com.au
ABN: 41 083 034 600